Catholic Education Awards
Posted by Thomas More College on 22 May 2023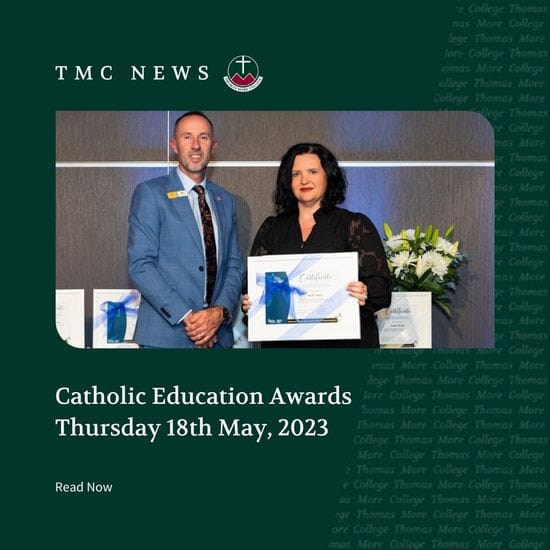 Congratulations
We wish to offer our congratulations to our Assistant Principal: Religious Identity & Mission, Ruth Taylor for being awarded the Outstanding Experienced Educator (Secondary) Award, at the annual Catholic Education South Australia awards ceremony. The awards ceremony acknowledged nine outstanding educators, recognising their excellence in teaching and learning.
We are very privileged to have Ruth working with our students here at TMC. Her caring nature, and the ability to bring out the best in each individual student she works with, is a testament to her character and dedication to improving the lives of the young people she works with.
Ruth has been influential in the development of the IMPACT program, which focuses on providing a space in the college for dis-engaged students, where they can feel a sense of belonging and safety, aided by the introduction of regular activities such as breakfast for those who require it, meditation, talk therapy and additional fitness opportunities. It also provides learning opportunities, based on the students' interest areas, with a modified timetable that focuses on building relationships within a smaller group of teaching staff. It has infused a strong Indigenous perspective across the campus with a focus on students being connected spiritually and developing a deep understanding of themselves. This initiative has led to a substantial increase in student attendance and engagement.
We wish to thank Ruth, for her continued commitment to our College.

ABC Breakfast Radio Interview
Monday, 5th June, Ruth was given the opportunity to speak with the ABC Breakfast Radio team about her IMPACT Program and the changes she is already recognising within our students. If you are interested in listening to her segment, please click the link below.
Author:
Thomas More College